Learning Organizations
These learning organizations offer access to some of the most passionate, engaged and creative people in the world, as well as to numerous learning solutions.
Take time to explore their websites and sign up for their newsletters. And be sure to check out their conferences, too!
International Alliance for Learning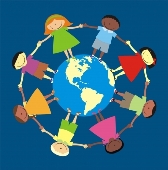 One of my favorite learning organizations is IAL--the premier international organization for educators and corporate trainers who apply AL methodologies to their teaching.
IAL's purpose is to unleash human potential by transforming learning, and its mission is to:
...develop the capacity of people and organizations worldwide to design and successfully implement Accelerated Learning programs and strategies that enable all human beings to achieve their highest potential.
For more information, go to: International Alliance for Learning

IAL Conference in Houston, Texas: January 15-18, 2009
Teachers, corporate trainers, instructional designers and educational innovators from across the United States and over 18 countries around the world will gather together in Houston, Texas, next January for IAL's 34th annual conference. Keynote speakers include Dr. Stephan Lundin, writer, filmmaker and author of the bestselling book FISH! and Sivasailam Thiagarajan (Thiagi), author, trainer, and game designer extraordinaire.
For more information, go to: IAL Conference
---
DGSL
The DGSL (Deutschen Gesellschaft für suggestopädagogisches Lehren und Lernen) is a sister organization to IAL located in Pastettin, Germany. They offer a free newsletter and quarterly magazine, and organize conferences every other year. If you can speak German, the site is a wealth of information on learning!
For more information, go to: DGSL
---
Project Renaissance
Another favorite learning organization of mine is Project Renaissance, which is the brain child of Win Wenger, a genius who has pioneered numerous techniques that expand our ability to think, learn, and create.
Win's website is filled with hundreds of pages of information and techniques--all offered for free. You might also want to check out his book, The Einstein Factor: A Proven New Method for Increasing Your Intelligence
.
For more information, go to: Win Wenger

Double Festival 2009 near Washington, DC: May 15-20, 2009
This is Win's 17th annual conference on Creative Problem Solving Methods and Enhanced/Accelerated Learning Techniques.
For more information, go to: Spring Conference
---
Mind and Life Institute
The Mind and Life Institute is a fascinating learning organization that is:
...dedicated to fostering dialogue and research at the highest possible level between modern science and the great living contemplative traditions, especially Buddhism.
The Institute has been sponsoring conferences between western scientists and the Dalai Lama in Dharamsala, India, since 1987. The scientists share their latest findings in dialog with the Dalai Lama, who shares his knowledge of the mind from the perspective of Buddhism.
For an interesting account of one of these conferences, check out Train Your Mind, Change Your Brain: How a New Science Reveals Our Extraordinary Potential to Transform Ourselves
by Sharon Begley.
Mind & Life Conference in Washington, DC: October 8-9, 2009
Although the Mind and Life Dialogues in India are by invitation only, the Institute also sponsors conferences open to the public. This year's conference is titled Educating World Citizens for the 21st Century: Educators, Scientists and Contemplatives Dialogue on Cultivating a Healthy Mind, Brain and Heart.
For more information, go to: Mind and Life Conference
---
The Global Neuroleadership Summits
I recently discovered a new learning organization/field of study called NeuroLeadership that looks like it might be really interesting.
The website defines Neuroleadership as the field of study and exploration that involves looking at leadership development and human performance improvement through the lens of understanding how the brain works.
The field is bringing neuroscientific knowledge into the area of leadership development, management training, education, consulting and coaching. To further these goals, the organization offers a free newsletter, a paid professional journal, and international summits that bring neuroscience academics, researchers and practitioners together from around the world.
Neuroleadership Summit in Los Angeles, CA: October 27-29, 2009
The program and presenters for this summit are still being finalized. To learn more, go to: Global Neuroleadership Summit
---
Awareness Through the Body
Awareness Through the Body (ATB) is a new learning organization developed at Auroville, an international intentional community in southern India. The program was created by Aloka and Joan, two Auroville teachers who come originally from Catalonia, Spain. They write that their purpose is to:
...provide tools for children to expand their consciousness, discover their inner self and eventually their psychic being, so that they can figure out by themselves how to steer their life, make out their own navigation charts, and create their own 'owner's manual'.
They believe the way to do this by discovering and exploring the body, so they use plates, sticks, and games--within form and space--to develop their students' attention, concentration, breathing and sensory awareness.
The program is now being taught to adults as well and is beginning to spread around the world.
For more information, go to: Awareness Through the Body
---
BrainGym
BrainGym founders Paul and Gail Dennison pioneered the field of learning through movement. The organization now has practioners worldwide who are helping people of all ages:
...integrate body and mind to bring about rapid and often dramatic improvements in: concentration, memory, reading, writing, organizing, listening, physical coordination, and more.
For more information, go to: BrainGym

Movement, Brain and Learning Conference near Freiburg, Germany: April 16-19, 2009
The 2009 Annual BrainGym Conference is joining forces with the 2009 International Kinesiology Conference to sponsor a forum that will bring together experts in learning from around the world.
For more information, go to: IAK Conference
---
SelfGrowth.com
SelfGrowth.com is the number one social networking site on the Internet for people interested in self-improvement. It offers myriad learning opportunities--from websites and experts pages to articles, products and more.
For more information, go to:

SelfGrowth.com

Return Home from Learning Organizations