Learning to Play Music Is Great Exercise for Your Brain!
Learning to play music is wonderful exercise for your brain--whether you are 8 years old or 80.
It is also a wonderful way to build community with others.
As discussed on the Music and Learning page, numerous studies have proved how beneficial learning to play music is for the development of children's growing brains. And as discussed on the Aging and Learning page, other studies have proved that learning to play a musical instrument as we age helps to keep our brains young and vibrant.
Unfortunately, modern life has turned many of us into passive consumers of the arts instead of performers.
Instead of putting on our own plays, we watch others perform on stage; instead of joining with our friends in a community dance, we watch Dancing with the Stars on TV. And instead of making music on the back porch with our neighbors, we download other people's songs onto our iPods, put on our headphones, and listen to the music in isolation.
It may take some extra time and effort to find ways to make our own music, but clearly the benefits far outweigh the drawbacks!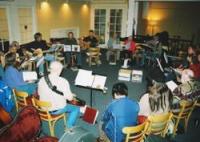 So how do we get started?
Let's help each other explore our own communities by sharing excellent places people of all ages can go to learn and play music with each other--whether they are novices or experts, have perfect pitch or a tin ear, or are comfortable singing on stage or only in the shower!
I'll start by recommending my favorite place in Portland, Oregon. Then it's your turn!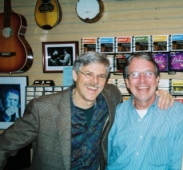 I am really lucky because Portland is a mecca for people who want to learn and make music together. My favorite place is:
Artichoke Music
Since opening its doors in 1971, Artichoke Music has been the premier place to buy high quality, hand-crafted acoustic instruments. It has also been the place to gather for an impromptu jam, for some great concerts, to find a music teacher, and to connect to the area's thriving folk music community.
Artichoke has gone through several owners and locations over the years, but it continues to thrive. In 2006, Richard Colombo and Jim Morris purchased it from longtime owners and professional musicians Steve Einhorn and Kate Powers.
Richard and Jim kept the retail store as a for-profit entity and created a nonprofit entity out of the music school, Backgate Stage concert venue, and Saturday afternoon Song Circle. Their passion is to embrace musicians of all ages and abilities while creating a joyful community of music makers. This shows clearly in their motto, which is Building community through music one heart at a time.
You'll find me singing at Artichoke's Song Circle every Saturday afternoon--along with many other singers and players of instruments ranging from guitars, banjos, ukuleles and mandolins to fiddles, harmonicas, and the occasional harp. Everyone is welcome, so stop by!
For more information about Artichoke, go to:
Artichoke Music--The Store


Artichoke Music--The Community
Steve Einhorn and Kate Power continue to make wonderful music in the Portland community, across the state, and around the country. To keep up on their latest concerts and events, sign up for their newsletter at:
Quality Folk
---


Now it's your turn.


Please recommend places in your community where you can learn to play music.
Do you have a great place to recommend where you can learn to play music in your community? Then please share it!
Return to Learning Strategies


Return to Music and Learning


Return Home from Play Music